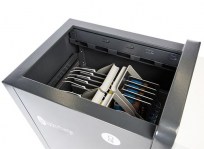 Product Highlights:
Compact design, small footprint
Truly universal. Compatible with Chromebook, Tablet, iPad devices, and more
Single soft closing sliding lid
Secure two-point locking system
Simultaneously charge up to 20 devices
Lock it down with the optional heavy duty anchor kit
Lifetime warrantys
Assembly:
Delivered assembled.
Dimensions:
Height: 37 in. 
Length: 27 in.
Width: 20 in.
Weight: 123 ib.